University of Iowa first to ask incoming students about sexual orientation
The University of Iowa will ask incoming students about their gender identity and sexual orientation in their applications, in an effort to connect them to appropriate services.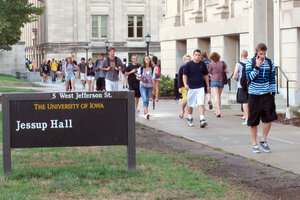 Ryan J. Foley/AP
The University of Iowa has become the first public U.S. university to ask incoming students about their sexual orientation and gender identity so they can be connected to relevant services once enrolled, the school said on Wednesday.
University officials said in a statement that their admissions office began asking those optional questions this fall in applications for entry.
The university's decision places it in the middle of a debate in higher education over whether to put such questions to students in a bid to become more inclusive, or to avoid doing so because it could be too intrusive.
Elmhurst College in Illinois, a private liberal arts institution, last year became the first U.S. college to ask incoming students their sexual orientation. The much larger University of Iowa is the first public university to take that step.
---