Details of Oregon mall shooter paint a mixed picture
The motive is still missing in Tuesday's Oregon mall shooting that left 3 people dead. Jacob Tyler Roberts, the suspected shooter, was adventurous and had planned a move to Hawaii, according to friends.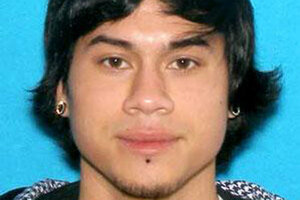 AP Photo/Clackamas County Sheriff's Department
Before police say Jacob Tyler Roberts walked into a mall wearing a hockey-style mask, firing gunshots that killed two people and injured a teenage girl, he visited the brother of his roommate, hugged him and told him he was going "somewhere south, somewhere warm."
The roommate, 26-year-old Jaime Eheler, also said Roberts "had a weird look on his face" when he left the house they shared.
Hours later, three people were dead, including Roberts, who shot himself after the Tuesday rampage.
Although officials have not yet revealed a motive, a clearer picture of Roberts is emerging. According to his aunt, a foot injury prevented him from joining the Marines. He enjoyed skydiving and once wanted to be a smokejumper, according to Eheler. His mother died of cancer when he was young, he left his aunt's house as a teenager and lived with Eheler's family for a while, and he had told friends of plans to live in Hawaii for a year.
"I never saw this young man raise his voice," Eheler said, sobbing. "I've seen him sad, I've seen him hurt. I've never seen him mad."
The Clackamas County sheriff's office said Roberts had several fully loaded magazines when he arrived at the mall Tuesday as thousands did their Christmas shopping. Roberts parked his 1996 Volkswagen Jetta in front of the second-floor entrance to Macy's and walked through the store into the mall and began firing randomly in the food court, authorities said.
---