Political bickering over fiscal cliff persists
Congressional leader John Boehner, R-Ohio, was unable to gain sufficient support to push through his 'Plan B' on Thursday. In order to avoid a recession, Boehner and President Obama aim to reach a deal before January.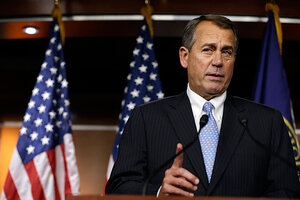 Jacquelyn Martin/AP
Republican lawmakers delivered a stinging rebuke to their leader, House of Representatives Speaker John Boehner, on Thursday when they failed to back an effort designed to extract concessions from President Barack Obama in year-end "fiscal cliff" talks.
The dramatic twist threw into disarray attempts to head off $600 billion worth of indiscriminate tax hikes and spending cuts that could push the U.S. economy into recession next year.
It also cast doubt over Boehner's future as speaker after failing to control unruly conservatives in his caucus.
With only 11 days left for bickering politicians to prevent automatic tax hikes and spending cuts, U.S. stock futures fell sharply on the news of the rebuke to Boehner.
The Ohio congressman had hoped to demonstrate Republican unity by passing a bill through the House, known as "Plan B," that would limit income-tax increases to the wealthiest sliver of the population - those earning $1 million and more, a far smaller slice of taxpayers than Obama wants to pay higher taxes.
But Boehner canceled the vote after failing to round up enough support from his party because many conservative Republicans are opposed to tax hikes on even the richest wage-earning Americans.
"The House did not take up the tax measure today because it did not have sufficient support from our members to pass," Boehner said in a statement after huddling with other Republican leaders.
The White House pledged to work with Congress to reach a deal as quickly as possible.
---