Head of nuclear security agency steps down
On Friday, Tom D'Agostino announced his resignation from the National Nuclear Security Administration. His departure comes while the agency is under scrutiny for installing an inoperable multimillion-dollar security system at the Los Alamos National Laboratory.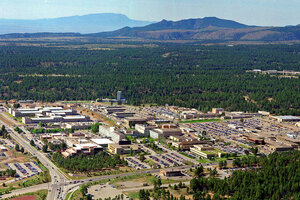 Los Alamos National Laboratory/AP/File
The man who has led the US nuclear security agency since 2007 is stepping down next month after presiding over a 20 percent increase in the agency's budget but also some management missteps that have raised questions about the agency's ability to carry out its mission.
Tom D'Agostino announced Friday he is leaving the National Nuclear Security Administration, which funds and oversees work at the Sandia and Los Alamos national labs in New Mexico. The research centers employ about 20,000 people in the state. He was appointed to the post by President George W. Bush.
Mr. D'Agostino issued a statement saying he wants to spend more time with family and says periodic leadership changes make organizations healthier, the Albuquerque Journal reported.
His announcement came the same day the agency ordered security stepped-up at the Los Alamos National Laboratory.
Lab spokesman Kevin Roark declined to say why security was increased or if it had anything to do with a new but inoperable $213 million security system around the lab's most sensitive nuclear facilities. The system was supposed to be up and running this summer, but officials now say it will take an additional $41 million and another six months to fix.
Mr. Roark said lab officials never discuss the reasons behind security alerts, but he noted Friday's order was exclusive to Los Alamos.
---