Post Sandy Hook: Police investigate Penn. shooting spree
Pennsylvania State Police have identified the gunman who allegedly killed four people in rural Pennsylvania Friday. While the shooting was not connected with the Sandy Hook massacre in Connecticut, police are digging into the gunman's motive.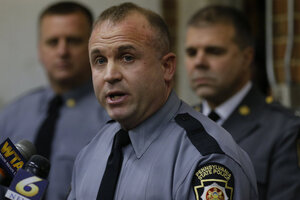 Keith Srakocic/AP
Investigators are searching for a possible motive in a shooting spree that left four people dead in rural Pennsylvania, including two apparent neighbors of the gunman, state police said on Saturday.
The violence erupted on Friday when a man with a pistol fatally shot three people in Frankstown Township, about 100 miles east of Pittsburgh, before he was killed in a shootout with state troopers as he tried to flee in a pickup truck, authorities said.
Officials identified the gunman as Jeffrey Lee Michael, 44.
Pennsylvania State Police spokesman David McGarvey said two of the three people the gunman killed appeared to be neighbors, but gave few further details.
---