Shaking off the shock, Newtown begins to look to the future
After mental-health professionals and therapists leave, and the headlines fade, what will happen to Newtown, Conn., the site of the horrific Sandy Hook school shooting? The community may never be the same, but it still has a future.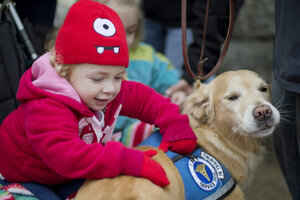 David Goldman/AP/File
The grief will not end. Yet the healing must begin. So as the shock of Newtown's horrific school shooting starts to wear off, as the headlines fade and the therapists leave, residents are seeking a way forward through faith, community, and a determination to seize their future.
At religious services Sunday, church leaders received standing ovations from parishioners they have been helping to cope with the shooting deaths of 20 children and six adults at Sandy Hook Elementary School. The gunman also killed his mother and himself.
"This has been the worst week of my life," said Monsignor Robert Weiss of the St. Rose of Lima Roman Catholic Church, which lost eight children and two adults in the massacre. He thanked the community for giving him strength to get through the week filled with funerals.
To deal with the short-term trauma, the state sent dozens of mental-health professionals to Newtown. Sessions were available every day, at a half-dozen locations. Relief also has been provided by therapy and service dogs, massage therapists, acupuncturists, and art therapists, from around Connecticut and the nation.
Rick Kaplan was driving back to South Carolina on Sunday with his nine service dogs. His "Canine Angels" usually assist disabled veterans, but he spent several days in Newtown with parents and grandparents of the victims, the victims' classmates, and other town residents.
The families "held dogs, cried, laughed, hugged and thanked us to say that this was invaluable," Kaplan said. "The love and respect of a dog is something; no doctor and no medicine can compete with what a dog can do."
---