Newtown inundated with support, consolation on Christmas
Residents of Newtown Connecticut and out-of-towners alike came together Christmas Day to comfort families grieving after the horrific shooting at Sandy Hook Elementary School.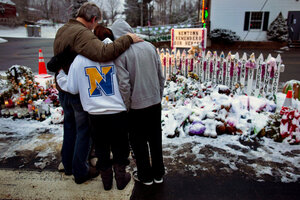 Craig Ruttle/AP
This Christmas was unlike any other in Newtown.
When a gunman wiped out nearly an entire first-grade class and killed students and adults in two other first-grade classrooms just 11 days before Christmas, it made it impossible for the holiday to be the same this year.
Some residents, like Joanne Brunetti, have found ways to console and help their grieving neighbors. Well-wishers from around the country are stopping by to do the same.
Brunetti watched over 26 candles that had been lit at midnight, just before Christmas Day, in honor of those slain at Sandy Hook Elementary School. She and her husband, Bill, signed up for a three-hour shift and erected a tent to ensure that the candle flames never went out throughout the day.
"You have to do something and you don't know what to do, you know? You really feel very helpless in this situation," she said Tuesday. "People have been wonderful to everybody in Newtown whether you were part of what happened or not. My thought is if we were all this nice to each other all the time maybe things like this wouldn't happen."
At a town hall memorial, Faith Leonard waved to people driving by and handed out Christmas cookies, children's gifts and hugs to anyone who needed it.
"I guess my thought was if I could be here helping out maybe one person would be able to spend more time with their family or grieve in the way they needed to," said Leonard, who drove to Newtown from Gilbert, Ariz., to volunteer on Christmas morning. "I know they've been inundated with support and that's great, but it's always nice to have a present to open on Christmas Day."
---