Sandy Hook students will resume classes
Sandy Hook Elementary School, the site of the December 14 shootings, is still an active crime scene accessible only to police. Survivors of the shootings will begin classes at the nearby former Chalk Hill Middle School on Thursday.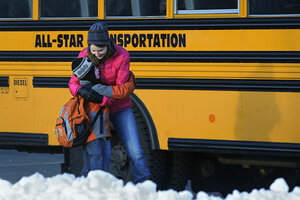 AP Photo/Jessica Hill
Many of the children who escaped last month's massacre at a Newtown, Connecticut elementary school got their first glimpse of their new school on Wednesday afternoon, welcomed to a building that has been decked out as a "Winter Wonderland" with the help of thousands of kids from around the world .
More than 400 Sandy Hook Elementary School students in kindergarten through grade 4 will return to classes on Thursday for the first time since the Dec. 14 attack. On Wednesday afternoon those children and parents who hadn't yet visited the school were invited to walk through their new location, in neighboring Monroe.
The former Chalk Hill Middle School has been renamed Sandy Hook Elementary School and has been transformed into a "cheerful, nurturing" environment, Newtown School Superintendent Janet Robinson said at a press conference held by Newtown and Monroe officials at a town park near the school.
Officials have gone to great lengths to help the returning students recover from the nightmarish memory of the attack by Adam Lanza, which left 20 of their schoolmates, all first graders, and six staff members dead in the second-deadliest school shooting in U.S. history.
"This does not look like the other elementary school," Robinson said emphatically.
---