Homeless after Superstorm Sandy, some pets may be displaced again
A shelter housing pets displaced by Superstorm Sandy is scheduled to close, with about half of the animals still unclaimed. The ASPCA will try to find foster homes for the animals, but their future remains uncertain.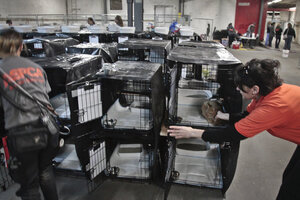 Bebeto Matthews/AP
The New York City shelter housing 280 pets displaced by Superstorm Sandy must shut down and, with nearly half the animals still unclaimed, cannot rule out euthanizing any left behind.
An uncertain future lies ahead for 52 cats and 84 dogs who remain in the Brooklyn emergency boarding facility run by the American Society for the Prevention of Cruelty to Animals, spokeswoman Kelly Krause said on Thursday.
They are among 280 pets sheltered since November, after the New York City area was devastated by the late October storm.
The facility was originally scheduled to close on Dec. 17, but the volume of unclaimed pets prompted the ASPCA to extend its deadline into January.
---