Earthquake shakes Alaska, Canada
The 7.5 temblor produced a tsunami warning that was cancelled after no serious waves were detected.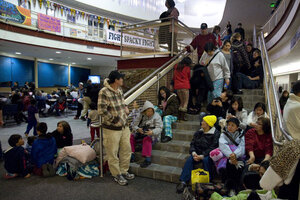 James Poulson/AP
A powerful earthquake sparked a tsunami warning for hundreds of miles of Alaskan and Canadian coastline, but the alert was canceled when no damaging waves were generated.
The magnitude 7.5 quake and tsunami warning that followed caused concern in some coastal communities, with alarms sounding and people rushing to higher ground for safety.
But the Alaska Tsunami Warning Center later said the waves were too small to pose a threat, reaching just six inches above normal sea level in places such as Sitka and Port Alexander.
"Initially, in the first 15 to 20 minutes, there might have been a bit of panic," Sitka Police Chief Sheldon Schmitt told The Associated Press in a phone interview. But he said things calmed down as the town waited for the all clear.
The temblor struck at midnight Friday (1 a.m. PST Saturday) and was centered about 60 miles west of Craig, Alaska, the U.S. Geological Survey said.
Seismologist Jana Pursley of the USGS said the quake was followed by six aftershocks, the strongest of which registered a 5.1 and came nearly four hours after the initial quake.
"Houses shook; mine had things tossed from (the) wall," Craig Police Chief Robert Ely said. But he added that there were "no reports of any injuries, no wave, no tidal movement seen."
---