Hagel may face opposition if nominated as defense secretary
Senators from both parties are predicting a difficult confirmation due to controversial statements the former Senator has made in the past.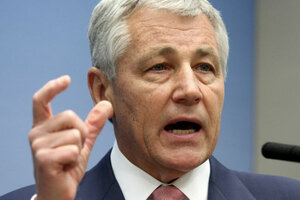 Lauren Victoria Burke/AP/File
Two senators predicted Sunday that former Sen. Chuck Hagel would face a difficult confirmation if nominated by President Barack Obama to be defense secretary.
Sen. Joe Lieberman, a Connecticut independent who's retiring and wouldn't have a vote, cited Hagel's less-than-hawkish positions on Iran. Lieberman told CNN's "State of the Union" that it would be "a very tough confirmation process," and "there are reasonable questions to ask and that Chuck Hagel will have to answer."
On NBC's "Meet the Press," Sen. Lindsey Graham, R-S.C., said it would be "a challenging nomination."
"I don't think he's going to get many Republican votes," Graham said.
Hagel, 66, is considered the leading candidate to replace Leon Panetta at the Pentagon, although a number of GOP senators have expressed reservations about a nomination. Their concerns largely center on Hagel's past comments about Israel and Iran. Outside groups have suggested that based on Hagel's remarks, he isn't sufficiently supportive of Israel, an important ally in the Middle East.
---