Notre Dame, Alabama stoke strong feelings for BCS national title game
Both the Fighting Irish and Crimson Tide have won their share of NCAA college football championships over the last century, dredging up dynastic disgust in fans everywhere.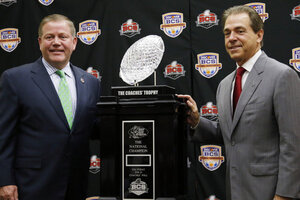 John Bazemore/AP
Love 'em or hate 'em, it's hard to turn away from Notre Dame and Alabama.
They are storied programs that stir plenty of passions, college football's North and South versions of the New York Yankees.
Well, now they're facing each other for the biggest prize of all.
A national championship.
"Having those two traditions come together in a game like this certainly creates a lot of national interest," said Alabama coach Nick Saban, "which is probably really good for college football."
Indeed, this was shaping up as one of the most anticipated games in years, a throwback to the era when coaching giants named Bear and Ara ruled the sidelines, when it was a big deal for teams from different parts of the country to meet in a bowl, when everyone took sides based on where they happened to live.
"I'm pretty aware of our history. I've become more aware of theirs over the past few months," said Barrett Jones, the Crimson Tide's All-American center. "I know that they are a very storied program. We both are. I think that's part of what makes this matchup fun."
ESPN executives were hopeful of getting the highest ratings of the BCS era. Tickets were certainly at a premium, with a seat in one of the executive suites going for a staggering $60,000 on StubHub the day before the game, and even a less-than-prime spot in the corner of the upper deck requiring a payout of more than $900.
"This is, to me, the ultimate matchup in college football," said Brent Musberger, the lead announcer for ESPN.
---