Joe Biden meets with religious leaders, the NRA is next
Vice President Joe Biden held an unannounced meeting with 12 religious leaders Wednesday. On Thursday, Biden plans to meet with NRA, sportsmen, and entertainment industry to discuss how to curb gun violence.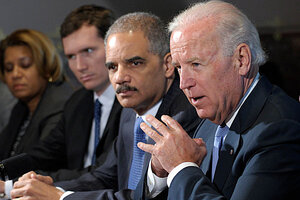 (AP Photo/Susan Walsh)
The Obama administration is sitting down with gun owners groups — including the National Rifle Association — as officials look at ways to curb gun violence.
Vice President Joe Biden, who is leading an administration-wide review of gun safety laws, has vowed urgent action in the wake of last month's massacre at a Connecticut elementary school.
On Wednesday night, Biden held an unannounced meeting with 12 different religious leaders to discuss gun control. CNN reports that according to Rev. Michael McBride, one of the attendees, the vice president talked about the moral imperative to take action. "He was asking the faith community to use the power of our moral voices and persuasion" to help find common sense solutions, McBride said.
The meeting with the NRA is one of three Biden has scheduled for Thursday, as he prepares to make recommendations on gun policy by the end of the month. Besides the NRA, Biden and other officials are meeting with sportsmen and wildlife interest groups, as well as people from the entertainment industry.
The NRA, the nation's largest gun-rights group, has blocked gun-control efforts in the past and is opposing any new ones.
Shortly after last month's shooting in Newtown, Conn., President Barack Obama tasked Biden with heading a commission to come up with recommendations on gun policy by the end of January. Obama supports steps including reinstating a ban on assault weapons and high-capacity ammunition magazines and closing loopholes that allow many gun buyers to avoid background checks.
---