Surprise! California has a budget surplus
What's rarer than a conservative in Hollywood? A surplus in Sacramento. Gov. Jerry Brown's new budget closes the $25 billion deficit he inherited — and even shows a modest budget surplus.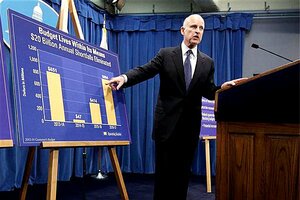 Rich Pedroncelli / AP
A budget surplus hasn't been seen in California for years, and finessing the state constitution's balanced budget mandate has required increasingly complex fiscal contortions. But riding a wave of new tax revenue, California's new budget will increase by nearly $5 billion while still offering a small surplus — a sign that the poster child for fiscal mismanagement is emerging into brighter days.
Gov. Jerry Brown on Thursday proposed a $97.6 billion general fund budget for the 2013-14 fiscal year that wipes out years of deficits and even includes a modest surplus.
The additional revenue hiked the spending plan by 5 percent over the current year and helps the governor pour more money into public schools and universities.
The state's budget shortfall stood at $25 billion when Brown took office two years ago.
"California today is poised to achieve something that has eluded us for more than a decade — a budget that lives within its means, now and for many years to come," Brown said during a news conference at the Capitol.
A rebounding economy coupled with new revenue from the higher sales and income taxes voters approved last November have put the nation's most populous state on a healthier financial trajectory as it begins to turn the corner on an era of deep budget shortfalls and spending cuts to core programs.
California's persistent budget woes came to represent the plight of states struggling through the recession as tax revenue declined steeply, leaving governors and state legislatures around the country little choice but to consider deep cuts or unpopular tax increases.
Brown took both approaches. He pushed an austerity message that forced cuts throughout state government during his first two years in office while persuading California voters to approve increases to the state sales tax and higher income taxes on the wealthy.
---