Obama's second inauguration may be smaller, but will still sparkle
While the crowd attending President Barack Obama's second inauguration Jan. 21 is expected to be much smaller than four years ago, the event will certainly be a star-studded celebration. The first family will lead a festive parade and pop celebrities Beyonce and Katy Perry will preform.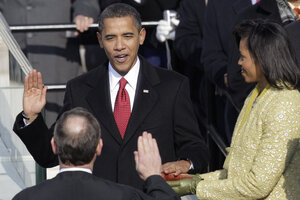 Jae C. Hong/File
President Barack Obama's second inauguration is shaping up as a high-energy celebration smaller than his first milestone swearing-in, yet still designed to mark his unprecedented role in American history with plenty of eye-catching glamour.
A long list of celebrity performers will give the once-every-four years right of democratic passage the air of a star-studded concert, from the bunting-draped west front of the Capitol, where Obama takes the oath Jan. 21, to the Washington Convention Center, which is expected to be packed with 40,000 ball-goers that evening.
The first family will lead a parade of clanging bands, elaborate floats and marchers, including costumed dancers, prancing horses and military units, down Pennsylvania Avenue. The president will dance with the first lady, whose dress seems destined to be most anticipated fashion statement of the second Obama administration.
Estimates of turnout are 600,000 to 800,000, compared with the 1.8 million in the record crowd on the National Mall four years ago to see the first swearing in of a black president. The mood of this 57th inauguration will be tempered by the weak economy, high unemployment, the aftermath of the Connecticut elementary school shooting and the long war in Afghanistan that's expected to require U.S. combat forces through the end of next year.
Yet recent developments have shown that inaugural enthusiasm is high.
A limited offering of $60 inaugural ball tickets for the general public sold out quickly, and inauguration planners have tried to crack down on scalping business that's sprung up online. There's an impressive list of celebrities, including Beyonce, Katy Perry and Usher, who have signed on to perform.
---