After the media hype, clergy members remain to aid Superstorm victims
A group of clergy members in New Jersey are working with local agencies and organizations to better address victims of Superstorm Sandy who show signs of emotional distress.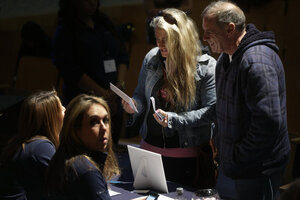 Seth Wenig/AP
Long after the media leaves and the federal agencies move out, the emotional and spiritual needs of the superstorm victims could remain.
A group of clergy members recently organized two events designed to help inspire and prepare local volunteers to address those needs.
"We really believe it is important to come and empower the local organization and agencies who know their communities better and have a heart for their community," the Rev. Doug Stringer, founder and president of Houston-based Somebody Cares America/International, told the Asbury Park Press of Neptune.
Stringer spoke to about 30 local clergy and volunteers Wednesday at the Hope Cathedral Church in Jackson about how they can help people impacted by Superstorm Sandy.
Stringer said typically people impacted by events such as Sandy show signs of emotional distress, which includes an inability to sleep, depression and restlessness.
"In trying to help them, we try and stress that there is no shame in seeking out help and that they are not going through this alone," he said.
Stringer was among the special guests who came out for a Sandy healing service held at the Hope Cathedral on Wednesday night and took part in Thursday's workshops, which centered on topics such as verbal first aid and caring for the caregiver.
Chaplain Edward Smith, a counselor at the event from Victim Relief Ministries, spoke about having visited Haiti following a major storm.
---