Eugene Patterson, newspaperman worth admiring and civil rights voice, dies at 89
Pulitzer Prize-wining editor and columnist, Eugene Patterson, famous for his moving argument for civil rights in the column, 'A Flower for the Graves,' passed away Saturday. Patterson was editor of the Atlanta Constitution, as well as managing editor of the Washington Post, and editor of the St. Petersburg Times.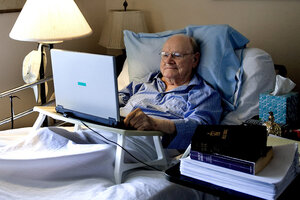 Cherie Diez/The Tampa Bay Times/AP
Eugene Patterson, a Pulitzer Prize-winning editor and columnist whose impassioned words helped draw national attention to the civil rights movement as it unfolded across the South, has died at 89.
Patterson, who helped fellow whites to understand the problems of racial discrimination, died Saturday evening in Florida after complications from prostate cancer, according to B.J. Phillips, a family spokeswoman.
Patterson was editor of the Atlanta Constitution from 1960 to 1968, winning a Pulitzer Prize in 1967 for editorial writing. His famous column of Sept, 16, 1963, about the Birmingham, Ala., church bombing that killed four girls — "A Flower for the Graves" — was considered so moving that he was asked by Walter Cronkite to read it nationally on the "CBS Evening News."
"A Negro mother wept in the street Sunday morning in front of a Baptist Church in Birmingham," Patterson began his column. "In her hand she held a shoe, one shoe, from the foot of her dead child. We hold that shoe with her.
"Every one of us in the white South holds that small shoe in his hand. ... We who go on electing politicians who heat the kettles of hate. ... (The bomber) feels right now that he has been a hero. He is only guilty of murder. He thinks he has pleased us. We of the white South who know better are the ones who must take a harsher judgment."
---