Seven questions and answers about the inauguration
Why is the inauguration always January 20? What happens when it falls on a Sunday? How many inaugural balls are there? The US presidential inauguration is full of history and tradition. Here's a look at President Obama's big day in question and answer form.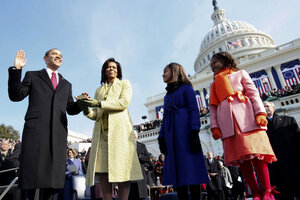 Chuck Kennedy/AP/File
With his wife and two daughters at his side, President Barack Obama will raise his right hand and place his left on two stacked Bibles as he takes the oath of office for another four-year term. His second inauguration promises the pageantry of the first, but on a smaller scale than 2009, when a record 1.8 million people filled the nation's capital to witness Obama making history as America's first black president.
Obama has chosen to use two Bibles during his swearing-in — one owned by Martin Luther King Jr. and the other by Abraham Lincoln. He used the Lincoln Bible while taking the oath four years ago. He is adding King's Bible for an inaugural ceremony that will take place on Jan. 21, the federal holiday honoring the civil rights leader.
At the 57th presidential inauguration a week from Monday, Chief Justice John Roberts will administer the oath of office to Obama and Supreme Court Justice Sonia Sotomayor will administer the oath to Vice President Joe Biden. It's a day rich in history and tradition.
A look at the inauguration, in question-and-answer form:
Q: Why is the inauguration on Jan. 21 instead of Jan. 20?
A: The Constitution's 20th Amendment, passed by Congress in March 1932 and ratified by the necessary states the following January, sets the inauguration date as Jan. 20 at noon.
---