Cop knowingly left his child in a hot car to die, say prosecutors
A cop is accused of leaving his baby girl in a hot car to die after killing the child's mother. "He was either going to talk her out of that paternity suit or he was going to kill her," said the prosecutor.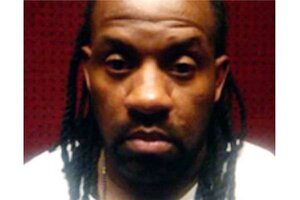 Prince George's County Police Department / AP / File
A District of Columbia police officer embroiled in a paternity suit fatally shot his mistress before leaving their infant child to die in an overheated car, prosecutors said as the officer's murder trial opened Monday.
Richmond Phillips committed the crimes because he was facing a paternity lawsuit and didn't want to pay child support for a baby girl he fathered out of wedlock, prosecutor Angela Alsobrooks told the jury in her opening statement. A defense lawyer countered that his client "didn't do this thing" and there wasn't evidence for a conviction.
Phillips was arrested in June 2011 after police located the bodies of 20-year-old Wynetta Wright and her daughter, Jaylin, in a park outside Washington. Prosecutors say Phillips shot Wright and then drove the child — still strapped in the car seat of her mother's car with the doors closed and the windows up — a short distance away, leaving her to die in stifling heat. The girl was just days shy of her first birthday.
When Phillips invited Wright to meet him at the park to try to work things out ahead of a scheduled court date, one of only two things was going to happen, Alsobrooks told the jury.
"He was either going to talk her out of that paternity suit or he was going to kill her," said Alsobrooks, the state's attorney in Prince George's County, Md.
Phillips is charged with first-degree murder, punishable by life in prison if convicted, along with other crimes. Surveillance video and phone records connect Phillips to the park where the killing occurred, DNA evidence links him to the murder, and he lied to investigators about his relationship with Wright, prosecutors say.
But defense lawyer Brian Denton said his client was innocent and that the case hinged on circumstantial evidence.
---