Gay marriage: A big debate in the smallest state
Gay marriage could be legalized in Rhode Island before the end of January. Hundreds of supporters and opponents of same-sex marriage testified before the state legislature today.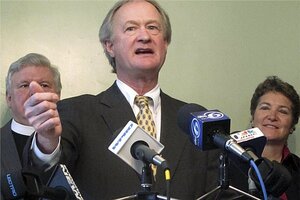 David Klepper
Hundreds of supporters of same-sex marriage rights assembled at the Rhode Island Statehouse on Tuesday, urging lawmakers to make the nation's smallest state the 10th to allow gay and lesbian couples to wed — and the last to do so in New England.
House Speaker Gordon Fox, who is gay, has called for a vote on same-sex marriage legislation in his chamber by month's end, making Rhode Island the latest state to address an issue whose supporters see things swinging their way after voters in Maine, Maryland and Washington approved gay marriage last fall.
About 300 supporters and opponents signed up to address the legislative committee reviewing the bill — they were limited to 2 minutes each to keep the hearing from going all night — while hundreds more gathered in the hallways outside the hearing.
Downstairs, a raucous rally of gay-marriage opponents beneath the Statehouse rotunda at times drowned out those testifying in the third-floor committee room.
"I'd like us to get on the right side of history," said Josephine O'Connell, 71, of Providence, who said it "breaks her heart" that her home state is the only one in New England that doesn't allow gays and lesbians like her to marry. "I don't want to be looking back in 20 years, thinking 'what were we thinking?'"
Gov. Lincoln Chafee, an independent, and Treasurer Gina Raimondo, a Democrat, both spoke out in favor of gay marriage at the hearing.
"I'm here as your treasurer, but I'm really here as a mother and wife," said Raimondo. "Every Rhode Islander deserves the same rights that we have."
Hundreds of others showed up to urge lawmakers in this heavily Catholic state to drop the legislation and protect the current definition of marriage.
---