Gay marriage legalized in Rhode Island?
Rhode Island took a big step towards legalizing gay marriage today: same-sex marriage passed the state legislature 51-19, but faces a tougher battle in the Rhode Island state senate.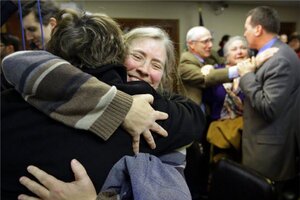 Steven Senne / AP
Rhode Island's House of Representatives voted overwhelmingly on Thursday in favor of a bill to make same-sex marriage legal, but officials in the strongly Democratic state expect the measure to face an uphill battle in the state Senate.
Lawmakers voted 51 to 19 in favor of the bill, which aims to make Rhode Island the 10th state and the last in New England to legalize gay and lesbian weddings.
Democratic Representative Arthur Handy, lead sponsor of the bill, said the issue was "about fairness and allowing all Rhode Islanders to have equal access to the rights and responsibilities that come with marriage."
"It feels good to see how far we've come in Rhode Island toward valuing all families, and I know we are close to the day when marriage equality becomes law here," he said in a statement.
House Speaker Gordon Fox, a co-sponsor of the measure who is openly gay, said he was "thrilled."
"We are marching toward equality," he said in a statement.
The legislation, supported by independent Governor Lincoln Chafee, has been introduced in the House every year since 1997. Handy has put it forward annually since 2003.
---