Ex-CIA officer gets prison time for leaking agent's name
John Kiriakou, a former CIA officer, was sentenced to 30 months in prison for leaking the name of a covert officer to a reporter in 2007. Kiriakou was among the first to confirm the use of waterboarding in interrogating al-Qaida terrorists.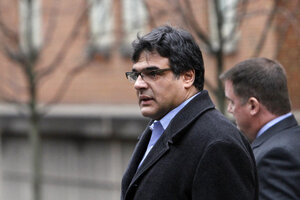 Jacquelyn Martin/AP
A federal judge rejected arguments that a former CIA officer was acting as a whistleblower on the agency's use of torture when the officer leaked a covert agent's name to a reporter, sentencing him to more than two years in prison.
A plea deal John Kiriakou made with prosecutors required the judge to impose a sentence of two-and-a-half years. U.S. District Judge Leonie Brinkema said she would have given him much more time if she could.
Kiriakou's supporters describe him as a whistleblower who exposed aspects of the CIA's use of torture against detained terrorists. Prosecutors said his claim was laughable, given that the first public statements he made largely defended the CIA's use of waterboarding.
Kiriakou's 2007 interviews about the interrogations of al-Qaida terrorist Abu Zubaydah were among the first by a CIA insider confirming reports that several detainees had been waterboarded.
The 48-year-old pleaded guilty last year to violating the Intelligence Identities Protection Act. No one had been convicted under the law in 27 years.
Absent the plea deal, federal sentencing guidelines would have called for a prison term of at least eight years, which the judge said she would have imposed. She said she understood the government's desire to secure a deal, given the difficulties in holding a public trial for national security cases that invariably delve into classified evidence.
Kiriakou chose not to speak at Friday's hearing, to which Brinkema responded, "Perhaps you've already said too much."
Kiriakou did give a brief statement outside the courthouse after the hearing, thanking supporters.
"I come out of court positive, confident and optimistic," he said.
Kiriakou was an intelligence officer with the CIA from 1990 until 2004.
---