Did Alex Rodriguez use performance enhancing drugs?
A Miami paper says Alex Rodriguez (ARod) of the New York Yankees purchased human growth hormone (HGH) and other banned substances from a Miami clinic.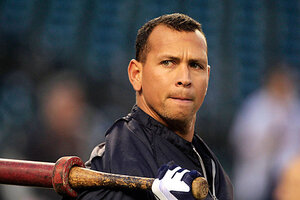 (AP Photo/Carlos Osorio, File)
Major League Baseball said it is "extremely disappointed" about new allegations of performance-enhancing drug use against Alex Rodriguez and other players contained in a newspaper report.
The Miami New Times, a popular alternative weekly, said in a story Tuesday that it had obtained files through an employee at a recently closed clinic in south Florida that show Rodriguez purchased HGH and other substances.
"We are always extremely disappointed to learn of potential links between players and the use of performance-enhancing substances. ... Through our Department of Investigations, we have been actively involved in the issues in South Florida," MLB's statement said.
Rodriguez, the New York Yankees slugger currently recovering from hip surgery, has admitted using steroids from 2001-03 but insisted he stopped after that.
"We fully support the Commissioner's Joint Drug Prevention and Treatment Program. This matter is now in the hands of the Commissioner's Office," the Yankees said in a statement. "We will have no further comment until that investigation has concluded."
---