Chicago shooting: A case of 'mistaken identity'?
Hadiya Pendleton, a Chicago teenager, was shot on Tuesday by a bullet police believe was intended for someone else. Gun violence in Chicago appears to be on the rise. In the meantime, legislators discussed gun laws in Washington on Wednesday.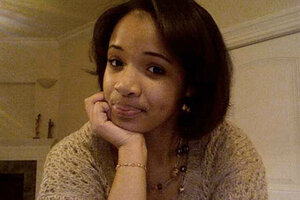 AP Photo/Courtesy of Damon Stewart
A 15-year-old Chicago girl who performed at President Barack Obama's inauguration last week was shot to death in a city park in what police think was a case of "mistaken identity" related to a gang turf war.
"Mistaken identity -- wrong place at the wrong time," Chicago Police Superintendent Garry McCarthy said at a press conference on Wednesday, a day after the shooting that killed Hadiya Pendleton and injured another teen. The press conference was broadcast by CLTV.
McCarthy said police have been interviewing witnesses who were standing near Pendleton in a park on the city's South Side. He said police were making progress in the investigation.
"I don't want this to be a three-week or a three-month investigation," said McCarthy, who was in Washington earlier this week addressing gun control. "I want this closed now ... I want that kid off the street," he said, referring to the killer. Police believe a handgun was used.
Pendleton, a sophomore at Martin Luther King Jr. College Prep, had performed at the inauguration with her school band, according to local media reports. News of her death near Obama's old home in the Kenwood neighborhood came before the U.S. Senate Judiciary Committee began hearings on gun control on Wednesday.
Gun violence in Chicago has been in the national spotlight over the past year, with 506 murders in 2012, an increase of 17 percent over the previous year. So far in January, there have been 42 homicides and 157 shootings, according to Chicago police.
Obama spokesman Jay Carney was asked about Pendleton's death Wednesday. He said the prayers of the president and the first lady were with the girl's family.
---