What comes now for the NFL after a tumultuous season?
The NFL is still coming to grips with the dangers of professional football — a brutal sport that makes the league tremendously wealthy.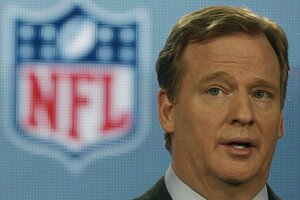 Gerald Herbert/AP
The Super Bowl closes a tumultuous year for the NFL.
Suicides by former NFL players. Thousands of others filing concussion lawsuits. New studies linking football to brain disease. Still no testing for human growth hormone. The specter of other purported performance-enhancing products — deer-antler spray, anyone? — being peddled to players.
A pay-for-pain bounty scandal. A lockout of officials resolved only after a ludicrous game-ending call. Zero minority hires for 15 coach or general manager openings.
And yet the league is as popular as ever.
Advertisers paid nearly $4 million per 30-second television commercial for the right to reach the 100 million or so Americans expected to tune in to Sunday's Super Bowl between the AFC champion Baltimore Ravens and NFC champion San Francisco 49ers. Eleven of the 12 most-watched TV programs during the last 2½ years were NFL postseason games, according to the league.
Uncertain, though, is what the future holds for an NFL still coming to grips with the dangers of a brutal sport that makes it tremendously wealthy.
RECOMMENDED: Super Bowl XLVII: 18 pregame facts on Ravens and 49ers
---