Girl, 6, crashes car: Can laws make young drivers safer?
A Pittsburgh girl, 6, crashed her mom's car Sunday morning. In South Dakota, lawmakers addressed slightly older drivers in legislation aimed at curbing teen car crashes.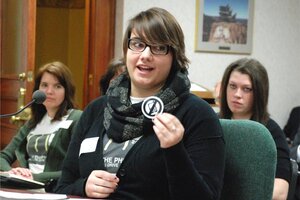 Chet Brokaw/AP
When a Pittsburgh girl, 6, crashed her mom's car while trying to drive across town to visit her father, no one was injured, say Pittsburgh police.
Police haven't released the name of the girl or her mother, who was reportedly still sleeping when the child took the her car keys about 9 a.m. Sunday. Police Sgt. Jerry Parker tells reporters the little girl is tall for her age, but adds: "How she knew how to operate a car, your guess is as good as mine."
She hit two parked vehicles, pushing one of them into a third, before hitting a utility pole, but police haven't said if anyone will face charges.
On the other side of the country, South Dakota lawmakers are seeking to protect young drivers with a package of recommendations that would ban beginning drivers from using cellphones behind the wheel and make other changes aimed at reducing teen traffic fatalities and serious injuries.
South Dakota is one of only a few states that allow 14-year-olds to begin driving with learners' permits, a tradition based on the need for teenagers to drive on farms, said state Sen. Craig Tieszen (R) of Rapid City, the chairman of the Teen Driving Task Force. Many states require young drivers to be 15 or older to get learners' permits.
The South Dakota Senate Transportation Committee voted 7-1 to approve a measure that would prohibit all beginning drivers from using cellphones or other electronic devices until they can get an unrestricted driver's license at age 16. At least 30 states and the District of Columbia have already banned the use of all cellphones by novice drivers.
---