Alabama standoff over but FBI mum on how boy was rescued
Jimmy Lee Dykes, who took a 5-year old boy hostage, was killed in a law enforcement raid. Neighbors heard a bang and gunfire, but details of the rescue remain secret. A Christian community's prayers are answered.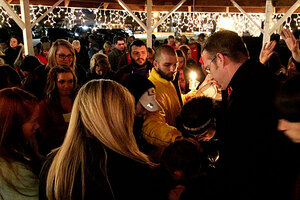 (AP Photo/Butch Dill)
For six anguished days, people in this small Alabama town asked just one question about the 5-year-old boy being held hostage in an underground bunker by a menacing, unpredictable neighbor: "Is he free yet?"
After FBI agents determined that talks with an increasingly agitated Jimmy Lee Dykes were breaking down, they stormed the closet-sized hideout Monday afternoon and freed the kindergartner. The 65-year-old armed captor was killed by law enforcement agents, an official told The Associated Press.
Interviewed Tuesday, the boy's great uncle, Berlin Enfinger, told ABC's Good Morning America that the child was relieved to be home after his rescue a day earlier. Authorities had said they considered the 5-year-old to be facing imminent danger when they decided to go in.
"He's happy to be home, and he looks good," Enfinger said.
Almost a week after Dykes was accused of fatally shooting a school bus driver on Jan. 29 and grabbing the child from among a busload of students, authorities were undertaking an extensive investigation of the standoff site — some 100 acres in Midland City where Dykes had built his bunker.
An official in Midland City, citing information from law enforcement, said police had shot Dykes. The official requested anonymity because the official wasn't authorized to speak publicly about the investigation into the case that had captured national attention.
But federal authorities were tight-lipped about specifics of how they ended the standoff.
---