Can a kinder, gentler Eric Cantor 'rebrand' Republicans?
House Majority Leader Eric Cantor says he hopes to work with President Obama on education, health care, immigration, and other issues, but House Whip Steny Hoyer dismisses this 'fourth rebranding.'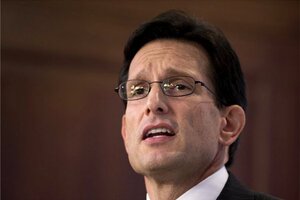 Manuel Balce Ceneta/AP
Eric Cantor, the often combative second-ranking Republican in the U.S. House of Representatives, sought on Tuesday to rebrand himself and his party, voicing hope that they can work with President Barack Obama for the sake of all Americans.
While not wavering from his conservative principles and desire to tame the record U.S. debt, Cantor expressed a new eagerness to help the needy in such areas as education, health care, immigration and moving up the economic ladder.
"Over the next two years, the House (Republican) majority will pursue an agenda based on a shared vision of creating the conditions for health, happiness and prosperity for more Americans and their families," Cantor said in a speech to the American Enterprise Institute, a Washington think tank.
Some Democrats mocked Cantor's bid to "rebrand" his party, with House Minority Whip Steny Hoyer noting that it was at least Cantor's fourth time to do so.
But Charles Schumer, the Senate's No. 3 Democrat, hailed the House Republican leader's tone and message.
"If House Republicans can adapt their agenda to match Leader Cantor's words, this Congress could surprise people with how productive it can be," Schumer said.
The House Republican leader did not endorse immigration reforms backed by Obama but voiced an openness on the matter.
---