Ravens parade includes Baltimore fans marching to Super Bowl celebration
Thousands of Baltimore Raven fans gathered first at City Hall, then made their way to M&T Bank Stadium for a Super Bowl victory rally.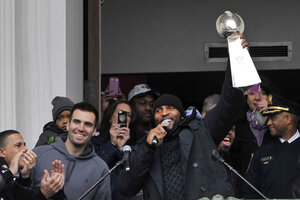 Gail Burton/AP
Baltimore celebrated with its Super Bowl champion Ravens on Tuesday, with thousands of fans in purple lining the streets of Charm City and packing the team's stadium for a celebration.
Fans filled the square in front of City Hall and cheered when the team arrived and when players held the silver Lombardi trophy aloft.
Coach John Harbaugh thanked the fans for their support, and safety Ed Reed sang the melody of Eddie Money's "Two Tickets to Paradise." Retiring middle linebacker Ray Lewis, the only current player to have started with the team when it came to the city from Cleveland in 1996, told fans the team had fulfilled a promise to go to New Orleans and win.
"The city of Baltimore — I love you for ever and ever and ever and ever," Lewis told fans in front of City Hall.
The players were about an hour late arriving, but fans waited to see them pile into military vehicles and set off on their drive to the stadium. The city shot off purple and white confetti as the parade started and the Queen song "We Are the Champions" played over a loudspeaker. Quarterback Joe Flacco and several other players rode in their own camouflage-colored military vehicles, while others stood on a float decorated like a football field with a yellow goal post.
Lewis had a position of honor in a military vehicle that brought up the end of the procession. He touched his hand to his heart and gave fans a double thumbs-up as he started on the parade route. Fans followed behind, surrounding the back of the vehicle.
---