Manhunt for former LAPD officer turns to snowy San Bernardino mountains
On Saturday, the manhunt for Christopher Dorner, took police in the snowy California mountains. Dorner is accused of shooting and killing three people, wounding two police officers, and is thought to be targeting up to 40 others.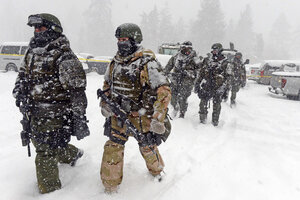 Will Lester/The Inland Valley Daily Bulletin/AP
All that was left were footprints leading away from Christopher Dorner's burned-out truck, and an enormous, snow-covered mountain where he could be hiding among the skiers, hundreds of cabins and dense California woods.
More than 100 law enforcement officers, some in armored personnel carriers, hunted for the former Los Angeles police officer suspected of going on a deadly rampage this week to get back at those he blamed for ending his police career. Three were dead, including one officer.
With bloodhounds in tow, officers went door to door as snow fell, aware they could be walking into a trap set by the well-trained former U.S. Navy reservist who knows their tactics as well as they do.
"The bottom line is, when he decides that he is going to make a stand, the operators are in great jeopardy," said T. Gregory Hall, a retired tactical supervisor for a special emergency response team for the Pennsylvania State Police.
As heavy snow fell in the mountains, thousands of heavily armed police remained on the lookout throughout California, Nevada, Arizona and northern Mexico.
Police said officers were guarding more than 40 people mentioned as targets in a rant they said Dorner posted on Facebook. He vowed to use "every bit of small arms training, demolition, ordinance and survival training I've been given" to bring "warfare" to the Los Angeles Police Department and its families.
---