Why Phil Knight changed his opinion on Joe Paterno
Phil Knight, cofounder of Nike, changed his opinion after hearing the Paterno family's rebuttal to the claims that Coach Joe Paterno knowingly allowed Jerry Sandusky's sexual abuse of children to continue.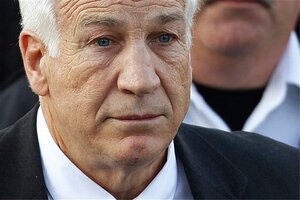 Matt Rourke/AP/File
Phil Knight, cofounder of Nike, has shifted from his previously stated opinion to side with Joe Paterno's family. The Paterno family released its response to Penn State's report on the Jerry Sandusky scandal Sunday, attacking Louis Freeh's conclusion that the coach hid sex abuse allegations against his longtime assistant.
In a report commissioned by the family, former US Attorney General and Pennsylvania Gov. Dick Thornburgh said the investigation by former FBI director Freeh resulted in a "rush to injustice." Phil Knight agreed, calling the Freeh report "unjustified."
That report, authorized by the university, found that Paterno and three former administrators covered up child sexual abuse allegations against former assistant coach Jerry Sandusky. Those findings last July were unsupported by the facts, said the family critique.
"The lack of factual report for the ... inaccurate and unfounded findings related to Mr. Paterno, and its numerous process-oriented deficiencies, was a rush to injustice and calls into question the credibility of the entire Report," Thornburgh was quoted as saying in the family's analysis, posted on the website paterno.com.
Months in the making, the report was billed as an independent analysis of the work by Freeh, who defended his report Sunday.
---