Coach fired after 16 years: NHL's Sabres try to regroup
Coach fired after 16 years: Lindy Ruff was dismissed by the Buffalo Sabres after a poor start to their season. The NHL coach fired after 16 years will be replaced on an interim basis by Ron Rolston.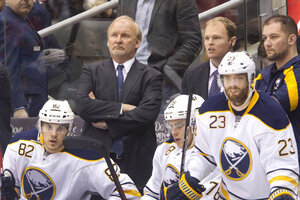 Fred Thornhill/REUTERS/File
Lindy Ruff is out as coach in Buffalo, meaning the slow-starting, inconsistent and sometimes lethargic Sabres have now become Ron Rolston's mess to clean up.
Rolston was promoted from the Sabres' minor-league affiliate, AHL Rochester, to finish out the season as Buffalo's interim head coach Wednesday.
The move was made hours after Ruff was fired amid growing criticism for the team's early season struggles.
And it came less than a week after Ruff had defiantly said he wasn't done trying to "clean up this mess."
The turnaround never came for Ruff and the Sabres (6-10-1), who are in the midst of a 4-10-1 slump following a 2-1 home loss to the Winnipeg Jets on Tuesday.
It was a game in which the Sabres were booed several times for their turnover-filled and inconsistent effort.
"I think the last game was quite honestly a tipping point. And it was evident to me that we were searching for answers to too many questions," general manger Darcy Regier said. "I think we were making some strides, but in the end, for every two steps forward, it was one step back, and sometimes not that."
Ruff's dismissal ends his 16-season tenure in Buffalo, during which he became the franchise's winningest coach (571-432-162) and the NHL's longest active-serving coach with one team.
Among North America's four major pro sports, Ruff's tenure was second only behind Gregg Popovich, who's been coach of the NBA's San Antonio Spurs since 1996.
---