Why Tim Tebow canceled his mega-church appearance
Tim Tebow canceled his scheduled appearance at a Dallas mega-church after hearing 'new information' about the pastor's anti-gay and anti-Islam statements.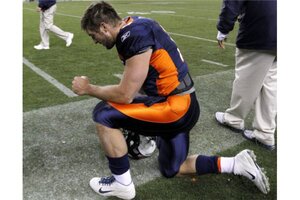 Barry Gutierrez/AP
New York Jets quarterback Tim Tebow, a devout Christian, has canceled an appearance at a Dallas mega-church led by a prominent pastor who has sparked controversy over remarks he made from the pulpit about gays and other religions.
Tebow, 25, who famously kneels in prayer on the football field in a move that has come to be known as "Tebowing," called off his April 28 appearance in a series of Twitter messages on Thursday.
"While I was looking forward to sharing a message of hope and Christ's unconditional love with the faithful members of the historic First Baptist Church of Dallas in April, due to new information that has been brought to my attention, I have decided to cancel my upcoming appearance," he said.
The First Baptist Church in Dallas, which had invited Tebow to celebrate the opening of its $130 million campus, is led by Robert Jeffress, a television evangelist who has criticized gays and other faiths, such as Islam and Mormonism.
The church said in a statement that Tebow, whose parents are missionaries, had called Jeffress on Wednesday and said he "needed to avoid controversy at this time, but would like to come to First Baptist Dallas to speak at a future date."
---