Sixth grade girl takes on Philadelphia archdiocese for right to play football
Caroline Pla, 11, is fighting for the right to continue playing football in Philadelphia's Catholic Youth Organization league. She has been in the league for a year already, but now the Philadelphia archdiocese is threatening to enforce the league's boys-only rule.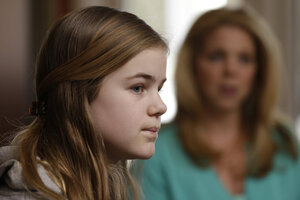 Matt Rourke/AP
The Roman Catholic church in Philadelphia doesn't need another public relations headache after years of priest-abuse and school-closure headlines, but it's got one in the form of a pony-tailed 11-year-old athlete.
Sixth-grader Caroline Pla is fighting the archdiocese for the right to keep playing church-sponsored youth football.
The soft-spoken twin has been battling boys on the gridiron since she was 5. She's played the last two seasons in a Catholic Youth Organization league, where the 5-foot-3, 110-pound offensive tackle and defensive end made the all-star team.
But the archdiocese may put the kibosh on her Catholic youth league career. While at least a few US dioceses let girls play football, and about 1,600 girls play on US high school teams, the Philadelphia league is open only to boys.
"First they said it was a boys sport. Then they said it was a safety issue. Then they said it was inappropriate touching. I think they are just constantly looking for excuses to not change it," Caroline said Thursday at her home in Buckingham Township, Bucks County.
She first played in a public Pop Warner league, then moved along with her teammates to the Catholic Youth Organization league in fifth grade. After one season without a hitch, she learned last fall that an overlooked boys-only rule would be enforced. The archdiocese, though, agreed to let her finish the season.
Archbishop Charles J. Chaput is now reviewing the ban, with a decision expected next month after a panel of coaches, parents and doctors weigh in.
"Traditionally, football is a boys-only sport due to its full contact nature," the church said in a statement. "Most parents and players have preferred this; some now disagree."
Caroline sent Chaput an email in January, explaining that her Catholic youth league team had been the best chapter in her burgeoning, three-season sports career.
---