After quiet week, Jimmie Johnson makes some noise winning Daytona 500
There wasn't a whole lot of attention paid to the five-time NASCAR Sprint Cup champion last week. But when it counted most, Jimmie Johnson showed off his driving skills once again.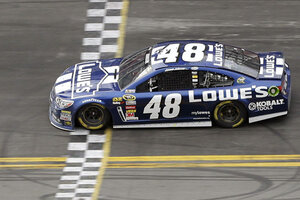 Chris O'Meara/AP
Jimmie Johnson went two years without a title and suddenly became an afterthought at the Daytona 500.
All the attention went to Danica Patrick and a handful of other drivers.
Not that it mattered Sunday, because look who pulled into Victory Lane.
Five-time is back. Not that he ever went away.
Johnson won his second Daytona 500 on Sunday, a year after he completed just one lap in the race and three months after falling short in his bid for a sixth Sprint Cup title. That so-called drought had made him something of a no-name during Speedweeks.
"In my mind, I didn't feel like I was under the radar," he said. "I felt like we were working hard to put the best product on the track. I guess I was quiet in the overall spectrum of things from the media side. I think people in the garage, people knew we were sitting on a lot of speed and had a very good race car."
But in winning the biggest race of the year, the No. 48 team wasn't sending a message to the competitors.
"I don't think we went anywhere; anybody in the garage area, they're wise to all that," Johnson said.
Johnson's win came on the same day that Patrick, who became the first woman in history to start a Sprint Cup race from the pole, again made history as the first woman to lead laps in the Daytona 500.
She ran inside the top 10 almost the entire race, kept pace with the field and never panicked on the track.
Her only mistakes were on pit road, where she got beat on the race back to the track, and on the final lap, when she was running third but got snookered by the veterans and faded to eighth. That's going to stick with Patrick for some time.
---