NASCAR fans to sue? Maybe not
NASCAR fans injured at Saturday's race may sue, but experts say they'd have a hard time collecting damages.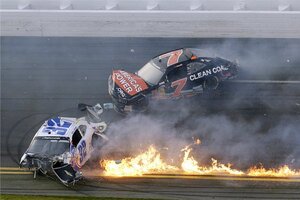 Chris O'Meara / AP
The attorney for three NASCAR fans injured last weekend during a race the day before the Daytona 500 says his clients may sue, but he hopes to reach a settlement with NASCAR. Some experts say they could face tough obstacles in winning damages.
Matt Morgan, the Orlando-based lawyer for the fans, said at a news conference Tuesday that any suit would focus on the safety fence used along the track at Daytona International Speedway.
More than 30 people were injured last Saturday after a horrific wreck in a second-tier NASCAR series race sent chunks of debris, including a heavy tire, into the stands. Morgan declined to provide the identities of his clients, but said two of them were seated directly in front of the crash and sustained injuries ranging from a fractured fibula to abdominal swelling. All have been released from the hospital.
Some experts say there could be grounds for a lawsuit, and that courts have looked past liability waivers written on the backs of sporting event tickets. Others maintain the ticket is a legal contract that could be hard to overcome in court.
"Ultimately, I believe it would be gross negligence," Morgan said. "We all know that when you go to a race you assume a certain amount of risk. But what people don't assume is that a race car will come flying into the stands... That's why they make the fences."
---