Alex Smith to Chiefs. What happens to Matt Cassel?
The Kansas City Chiefs have agreed to acquire Alex Smith from the San Francisco 49ers. Will former Chiefs QB Matt Cassel go to the Arizona Cardinals?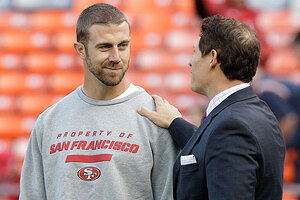 (AP Photo/Tony Avelar, File)
Alex Smith quietly stayed behind the scenes after losing his job and watched from the sideline as San Francisco returned to the Super Bowl for the first time in 18 years. Yet the No. 1 overall draft pick from 2005 did make one thing known: The veteran quarterback still considers himself a starter.
And he hoped to get that chance again. Now, he appears to have it.
The Kansas City Chiefs have agreed to acquire Smith from the 49ers in the first major acquisition since Andy Reid took over as the team's new coach in early January, a person with knowledge of the trade told The Associated Press on Wednesday.
The person spoke on condition of anonymity because the deal cannot become official until March 12, when the NFL's new business year begins. Another person familiar with the swap said the 49ers will get a second-round pick in April's draft, No. 34 overall, and a conditional pick in the 2014 draft.
After spending his first eight up-and-down years with the 49ers, Smith will get a welcome new start. The Chiefs will get the proven play-caller they hope can help turn things around under a new coach much the way Smith did under Jim Harbaugh in San Francisco.
"You never know when your opportunity's going to come," Smith said late in the season. "The good ones are ready when they do come."
---