12-week abortion ban vetoed: Will the legislature override the veto?
A 12-week abortion ban passed both houses of the Arkansas state legislature before being vetoed by Gov. Mike Beebe, who called the law unconstitutional.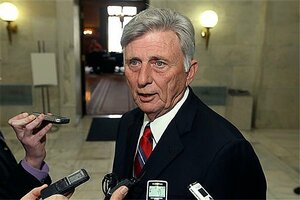 Danny Johnston/AP
Arkansas Gov. Mike Beebe on Monday vetoed what would have been the most restrictive abortion ban in the nation, telling lawmakers that outlawing the procedure as early as 12 weeks into a pregnancy would be unconstitutional.
Beebe used the same reasoning as he did last week while vetoing a 20-week abortion ban — a veto lawmakers quickly overrode. The Democratic governor said the Arkansas Legislature's new Republican majority was violating the U.S. Supreme Court's 1973 Roe v. Wade decision, which legalized abortion until a fetus could survive outside the womb — generally 22 to 24 weeks. The measure would ban most abortions once a fetal heartbeat can be detected using an abdominal ultrasound, which is generally 12 weeks into a pregnancy.
"Because it would impose a ban on a woman's right to choose an elective, nontherapeutic abortion well before viability, Senate Bill 134 blatantly contradicts the United States Constitution, as interpreted by the Supreme Court," Beebe said in his veto letter. "When I was sworn in as governor I took an oath to preserve, protect and defend both the Arkansas Constitution and the Constitution of the United States. I take that oath seriously."
An override attempt on the 12-week ban will begin in the Senate on Tuesday. A simple majority is required from both chambers for an override to be successful.
The 20-week ban went into effect immediately after lawmakers voted to override Beebe's veto last week, but the 12-week ban wouldn't take effect until this summer.
Republicans, who took control of both chambers of the Arkansas Legislature this year for the first time since Reconstruction, could overcome Beebe's veto if they all vote together. The GOP holds 21 of 35 Senate seats and 51 of 100 House seats.
---