1,000 flights canceled due to major Midwest snowstorm
1,000 flights canceled in midwestern US on Tuesday. Another major winter snowstorm has resulted in more than 1,000 flights canceled in Chicago and Minneapolis.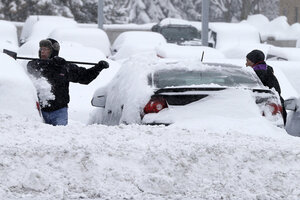 Jim Mone/AP
A late winter storm dumped heavy snow on the midwestern United States on Tuesday, contributing to numerous highway crashes and flight cancellations as it moved east toward the Ohio Valley and the mid-Atlantic states.
More than 1,000 flights were cut in and out of Chicago's O'Hare and Midway airports and 107 more were cancelled in and out of Minneapolis-St.Paul International Airport, according to the FlightAware.com flight tracking service.
In western Wisconsin, a semi-tractor flipped off an Interstate 94 bridge and fully submerged in the Red Cedar River in Menomonie early Tuesday, said Christine Ouellete, a Wisconsin Transportation Department spokeswoman.
The truck's two occupants have not been heard from since the crash and rescue crews pulled the tractor from the river and were working to get into the cab, said Lieutenant Jeff Lorentz of the Wisconsin State Patrol.
The truck had been headed west, but the eastbound lanes of I-94 have been closed at the site since just after the crash for the rescue crews. The interstate was open otherwise.
---