Are Congress and Obama moving toward a budget deal?
As the public's patience with partisan politics wears thin, signs in Washington indicate possible movement toward bipartisan budget decision-making. The House passed a bill which would fund government programs through this fiscal year on Wednesday. The Senate is expected to pass a similar measure soon. Also on Wednesday, President Barack Obama invited Republican Senators to dinner.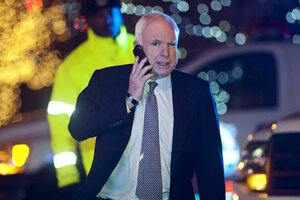 AP Photo/Cliff Owen
Legislation easily passed the U.S. House of Representatives on Wednesday to avert another partisan budget battle and a possible government shutdown, as President Barack Obama also opened new lines of communication with Republicans.
By a vote of 267-151, the House passed a measure to fund government programs until the end of the fiscal year on Sept. 30. The Democratic-controlled Senate is expected to pass a similar bill next week.
Without such legislation, federal agencies would run out of money on March 27.
The bill to continue funding the government without last-minute drama came as Obama took the unusual step of inviting Republican senators to a dinner on Wednesday night at a Washington hotel a few blocks from the White House that lasted about an hour and a half.
An administration official told Reuters Obama was hoping to take advantage of a lull in a series of budget crises to launch a dialogue with Republican lawmakers, which he hopes will lead to a broad deficit-reduction deal.
While the dinner was not intended to be a negotiation, it was an opportunity for Obama to correct the record on a perception among some Republicans that he is unwilling to consider some difficult spending cuts that are unpopular with his fellow Democrats in Congress.
Those could include cuts to programs that include the Social Security pension system and Medicare for the elderly.
---