Afghanistan: Two suicide bombers strike on first day of Hagel's visit
About 20 people were killed in two suicide bombings in Afghanistan Saturday. A Taliban spokesman said the attacks were a message for Secretary of Defense Chuck Hagel, who is in Afghanistan for his first official visit.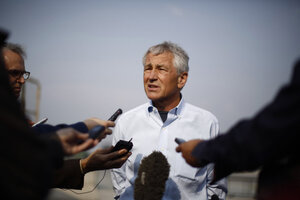 Jason Reed/Reuters
Militants staged two deadly suicide attacks Saturday to mark the first full day of US Defense Secretary Chuck Hagel's visit to Afghanistan, a fresh reminder that insurgents continue to fight and challenges remain as the US-led NATO force hands over the country's security to the Afghans.
A suicide bomber on a bicycle struck outside the Afghan Defense Ministry early Saturday morning, and about a half hour later, another suicide bomber attacked a police checkpoint in Khost city, the capital of Khost province in eastern Afghanistan.
Nine people were killed in the bombing at the ministry, and an Afghan policeman and eight civilians, who were mostly children, died in the blast in Khost, said provincial spokesman Baryalai Wakman.
"This attack was a message to him," Taliban spokesman Zabiullah Mujahid said of Hagel, in an email to reporters about the defense ministry attack.
Hagel was nowhere near the blasts, but heard them across the city. He told reporters traveling with him that he wasn't sure what it was when he heard the explosion.
"We're in a war zone. I've been in war, so shouldn't be surprised when a bomb goes off or there's an explosion," said Hagel, a Vietnam War veteran.
---