Democrats from rural areas face pressure from pro-gun constituents
Democratic senators from mostly rural areas in the West and South must walk a fine line between party loyalty and constituents' wishes when it comes to gun control legislation.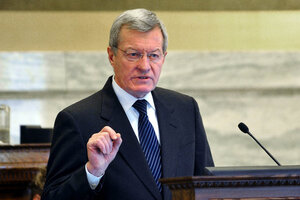 Dylan Brown/The Independent Record/AP/File
Democratic senators in the West and South who have long embraced gun-owners' rights are facing angry constituents, on edge over a renewed call for a ban on assault weapons from liberal lawmakers in Washington, D.C., in the aftermath of December's deadly elementary school shooting in Connecticut.
The issue could shift the balance of power in the US Senate in the 2014 election, and impact President Barack Obama's ability to implement his second-term agenda.
These Democrats hail from predominantly rural regions of the country where the Second Amendment of the US Constitution — which guarantees the right to bear arms — is cherished and where Republican candidates routinely win in presidential elections.
From Montana to Louisiana, these anxious voters have made at least six Democratic senators a bit uneasy heading into next year's election season. Both sides are aware that gun-owners' rights are taking shape as a campaign issue for 2014.
"Make no mistake — it is a very delicate dance for rural state Democrats," said Barrett Kaiser, a Democratic political consultant.
US Sen. Max Baucus of Montana knows all too well what's at stake. Back during President Bill Clinton's administration, the Democrat faced a choice: support an assault weapons ban urged by a president from his own party and risk angering constituents who cherish their gun rights, or buck his party. He voted for the ban, and nearly lost his Senate seat.
---