Obama said to be close to naming Perez for Department of Labor
Sources close to the president have told the Associated Press civil rights official Thomas Perez is likely to be President Barack Obama's choice to head the Department of Labor.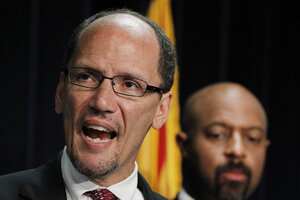 Ross D. Franklin/AP/File
Two people familiar with the process say President Barack Obama is close to naming Thomas Perez, a civil rights official in the Justice Department, as his choice to head the Department of Labor.
His nomination could come as early as Monday, the people familiar with the process said Saturday. They spoke on condition of anonymity because the official announcement has not yet been made.
If confirmed, Perez would replace Hilda Solis, who resigned in January.
White House spokesman Matt Lehrich declined to comment.
Perez was the first Latino elected to the Montgomery County Council in Maryland, where he served from 2002 to 2006.
Perez, 51, has led the Justice Department's Civil Rights Division since 2009 and previously served as Maryland's labor secretary. He is expected to have solid support from organized labor and the Hispanic community, which is eager to have Hispanic representation in Obama's Cabinet.
Perez would come to the Labor Department as Obama pushes a major immigration overhaul, which could include changes in how employers hire guest workers. Labor Department officials have also taken a prominent role in supporting Obama's effort to raise the federal minimum wage from $7.25 to $9 an hour.
---