Florida Lt. Governor resigns amid Internet gambling probe
Authorities in Florida have spoken to former Lt. Gov. Jennifer Carroll about a firm she once represented that is under investigation. Carroll submitted her resignation Tuesday.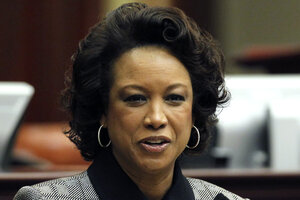 Chris O'Meara/AP/File
Florida Lt. Gov. Jennifer Carroll announced her resignation Wednesday, a day after she was questioned by authorities investigating possible illegal gambling at an Internet cafe company that she once represented.
The head of the company, Allied Veterans of the World, has been accused of using the cafes as an illegal front for veterans' charity and keeping millions of dollars in profits.
Carroll's resignation letter to Gov. Rick Scott, dated Tuesday, offered no details about her reason for leaving. But Scott's chief of staff, Adam Hollingsworth, said she was interviewed by Florida Department of Law Enforcement officers Tuesday regarding her work with Allied Veterans of the World.
She resigned to ensure her ties to the company would not be a distraction for the administration, Hollingsworth said. Carroll, a Navy veteran, had owned a public relations firm that represented Allied Veterans, which operated Internet cafes and purchased software from International Internet Technologies.
According to an Internal Revenue Service affidavit filed in federal court, Allied Veterans evolved from a charitable organization that ran bingo games and held bake sales for veterans beginning in 1979 to a group suspected of operating more than 40 illegal for-profit gambling locations around Florida. The veterans charity was a fraud, according to the IRS.
---