New York shooting: Police exchange fire with gunman
A shooter killed four people and injured two others in two separate locations in upstate New York on Wednesday. Subsequently, the suspect was believed to be barricaded in an abandoned building surrounded by police.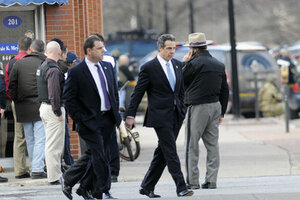 REUTERS/Hans Pennink
Four men were killed on Wednesday in separate shootings at a barbershop and a car wash in neighboring upstate New York towns, and police surrounded a building where the suspected gunman was believed to be barricaded.
Authorities said the gunman drove to John's Barber Shop in the village of Mohawk at about 9:30 a.m. EDT (1330 GMT) and after a brief exchange of words opened fire with a shotgun, killing two customers and critically wounding the owner and another customer, New York State Police Superintendent Joseph D'Amico said at a news conference.
"Totally unprovoked, we believe he fired a number of rounds from the shotgun," he said.
The shooter then drove to Gaffy's Jiffy Lube in the neighboring town of Herkimer and fired again, D'Amico said, striking and killing two customers.
The lone suspect was identified by state police as Kurt Myers, 64, of Mohawk, although local police had previously spelled his last name as Meyers.
State police in military garb and using an armored vehicle surrounded an abandoned building in the downtown section of Herkimer, a town of 7,700 people, on Wednesday afternoon. Shots were fired from inside the building and police returned fire.
Local and state police, assisted by the FBI, teamed up in an attempt to apprehend Myers, whose arrest record includes a drunken driving charge in 1973, police said.
The killings took place shortly after a fire was reported at the Mohawk apartment house where Myers lived, said Mohawk Mayor James Baron.
A subsequent search of the apartment turned up a cache of guns and ammunition, said New York Governor Andrew Cuomo, who joined police at the press conference.
---