Jack Curran, legendary high school coach, dies
Jack Curran racked up dozens of Coach of the Year awards and was inducted into nine different Halls of Fame, but those who knew him say his character outshone his trophies.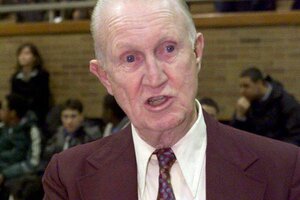 Kathy Kmonicek/Newsday/AP/File
Jack Curran spent more than a half century compiling records in high school basketball and baseball that won't be toppled anytime soon. Maybe never.
The 82-year-old coaching great from Archbishop Molloy High School died Thursday, the school said. Despite years of medical problems, he rarely missed a day at school, let alone a game or practice.
When former players, opponents, friends and colleagues spoke of him, the wins and titles were secondary to the character of the man.
"He was one of the true saints in scholastic sports," said Naismith Memorial Hall of Fame coach Lou Carnesecca, whom Curran succeeded at Molloy. "I can't think of anyone with a better record for two sports than Jack. His records will always stand and be tough to break. However, it's what he did for kids that was more important and not necessarily just athletes from Molloy but from the New York area."
Curran's teams won five city championships in basketball and 17 in baseball. No other New York City coach has ever won a title in both sports in the same year. Curran did it four times — 1969, 1973, 1974 and 1987. His record was 972-437 in basketball and 1,708-523 in baseball.
"Those marks will never be broken," Molloy President Richard Karsten said. "He had the respect of so many young players and the older players would come back to see him."
Those former players included some of New York City's biggest names in high school basketball — 1972 Olympian Kevin Joyce, Brian Winters, Kenny Smith, Kenny Anderson and Russ Smith, who was playing for Louisville on Thursday in the Big East quarterfinals at Madison Square Garden.
Anderson, who went on to play at Georgia Tech and in the NBA, tweeted: "I lost my favorite coach, mentor and just a great soul Jack Curran you will be missed, I will have you in my thoughts everyday I live Thank U."
New York Mets outfielder Mike Baxter played for Curran from 2000 to 2002 and remembered him not only as an "incredible storyteller" but someone who always had his players' interests at heart.
---