Tubby Smith fired by Minnesota, day after NCAA tournament loss
Tubby Smith fired: The veteran coach, who had led Kentucky to the 1998 NCAA championship, was shown the door Monday. A poor Big 10 conference record during his time at Minnesota probably got Tubby Smith fired.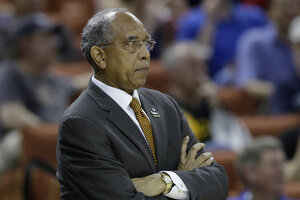 Eric Gay/AP
Minnesota fired Tubby Smith on Monday, cutting ties with the veteran coach one day after the Golden Gophers lost to Florida in the NCAA tournament.
Athletics director Norwood Teague announced the decision Monday and said it was time for a "fresh set of eyes" on the program.
Smith was 124-81 (.610) in six seasons at Minnesota, helping to bring the program back to respectability and ramping up expectations for a team hit hard by an academic cheating scandal.
Smith won 20 games five times. But he went just 46-62 in Big Ten play and never finished higher than sixth in the conference. The Gophers made three NCAA tournament appearances under Smith. They beat UCLA this year before losing on Sunday.
"Tubby has had a long and distinguished career and we feel it's time for a fresh set of eyes for our student-athletes and our program in general," Teague said. "We are grateful to Tubby and his entire staff for their hard work and dedication to this university, our students and the entire Minnesota community."
Smith was welcomed with wild enthusiasm when left powerhouse Kentucky in 2007, hailed as the savior to a program that Dan Monson was never able to raise back out of the abyss created from a the academic fraud that ended up wiping out the team's Final Four appearance in 1997.
Smith won 20 games his first season and took the team to the NCAA tournament the following year, restoring some sense of pride to a team that at one time was the most popular draw in the Twin Cities.
But the success seemed to level off after that. The Gophers made the tournament again in 2010, missed it in 2011 and settled for an NIT bid last year as fans started to grow impatient.
"I want to thank the University of Minnesota and the people of Minnesota for giving me the opportunity to lead the Golden Gopher basketball program for six years," Smith said in a statement provided by the school. "Our staff did things the right way and will leave knowing that the program is in far better shape than when we arrived."
---