3 dozen school administrators and teachers indicted in Atlanta cheating scandal
An investigation by the state of Georgia found widespread cheating on standardized tests by nearly 180 educators in 44 Atlanta schools, dating back to 2005. On Friday, 35 administrators and teachers were indicted by a Fulton County grand jury.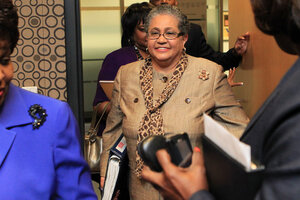 Curtis Compton/Atlanta Journal-Constitution/AP
Juwanna Guffie was sitting in her fifth-grade classroom taking a standardized test when, authorities say, the teacher came around offering information and asking the students to rewrite their answers. Juwanna rejected the help.
"I don't want your answers, I want to take my own test," Juwanna told her teacher, according to Fulton County District Attorney Paul Howard.
On Friday, Juwanna — now 14 — watched as Fulton County prosecutors announced that a grand jury had indicted the Atlanta Public Schools' ex-superintendent and nearly three dozen other former administrators, teachers, principals and other educators of charges arising from a standardized test cheating scandal that rocked the system.
Former Superintendent Beverly Hall faces charges including conspiracy, making false statements and theft because prosecutors said some of the bonuses she received were tied to falsified scores. Hall retired just days before the findings of a state probe were released in mid-2011. A nationally known educator who was named Superintendent of the Year in 2009, Hall has long denied knowing about the cheating or ordering it.
During a news conference Friday, Howard highlighted the case of Juwanna and another student, saying they demonstrated "the plight of many children" in the Atlantaschool system.
Their stories were among many that investigators heard in hundreds of interviews with school administrators, staff, parents and students during a 21-month-long investigation.
According to Howard, Juwanna said that when she declined her teacher's offer, the teacher responded that she was just trying to help her students. Her class ended up getting some of the highest scores in the school and won a trophy for their work. Juwanna felt guilty but didn't tell anyone about her class' cheating because she was afraid of retaliation and feared her teacher would lose her job.
---