Texas district attorney and wife found dead
Kaufman County District Attorney Mike McLelland, and his wife Cynthia were found dead in their home Saturday. An assistant to Kaufman was also gunned down near his office two months ago.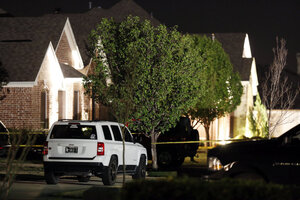 Ian C. Bates/The Dallas Morning News/AP
A central Texas prosecutor and his wife were found killed in their house two months after one of his assistants was gunned down near their office, authorities said.
Investigators found the bodies of Kaufman County District Attorney Mike McLelland and his wife, Cynthia, on Saturday, Kaufman County sheriff's Lt. Justin Lewis said. Police, FBI agents, Texas Rangers and deputies were part of the investigation.
Assistant District Attorney Mark Hasse was shot to death in a parking lot a block from his office on Jan. 31. No arrests have been made in his death.
Lewis declined to say how the couple died or whether authorities believe their deaths are linked to Hasse's. He wouldn't provide further details. Kaufman County is 33 miles southeast of Dallas.
Kaufman Police Chief Chris Aulbaugh told The Dallas Morning News that the McLellands had been shot in their home and although investigators didn't know if their deaths were related to Hasse's killing, they couldn't discount it.
"It is a shock," Aulbaugh told the newspaper. "It was a shock with Mark Hasse, and now you can just imagine the double shock and until we know what happened, I really can't confirm that it's related but you always have to assume until it's proven otherwise."
---