Connecticut reaches deal on tough gun laws, 3 months after Newtown
Connecticut lawmakers reached a deal, announced in both houses today, that will give Connecticut some of the strictest gun and ammunition regulations in the nation.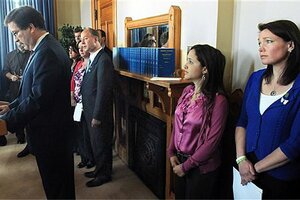 Mara Lavitt / New Haven Register / AP
Connecticut lawmakers announced a deal Monday on what they called some of the toughest gun laws in the country. The new laws, proposed after the December mass shooting in the state, include a ban on new high-capacity ammunition magazines like the ones used in the massacre that left 20 children and six educators dead.
The proposal includes new registration requirements for existing magazines that carry 10 or more bullets, something of a disappointment for some family members of Newtown victims who wanted an outright ban on the possession of all high-capacity magazines and traveled to the state Capitol on Monday to ask lawmakers for it.
The package also creates what lawmakers said is the nation's first statewide dangerous weapon offender registry, creates a new "ammunition eligibility certificate," imposes immediate universal background checks for all firearms sales, and extends the state's assault weapons ban to 100 new types of firearms and requires that a weapon have only one of several features in order to be banned.
The newly banned weapons could no longer be bought or sold in Connecticut, and those legally owned already would have to be registered with the state, just like the high-capacity magazines.
"No gun owner will lose their gun," said House Minority Leader Lawrence Cafero Jr., a Norwalk Republican. "No gun owner will lose their magazines."
The bill also addresses mental health and school security measures.
The shooting Dec. 14 at Sandy Hook Elementary School reignited the gun debate in the country and led to calls for increased gun control legislation on the federal and state levels. While some other states, including neighboring New York, have strengthened their gun laws, momentum has stalled in Congress, whose members were urged by President Barack Obama last week not to forget the shooting and to capitalize on the best chance in years to stem gun violence.
---